Campingpark
---
Booking Request
Reisetipps
---
---
Holidays and vacations in Porto Santa Margherita at the Adriatic Sea

Modern village with an about 3 km long sand beach and a big sport port and a marina. The port is almost as big as the village itself. The sailing school at the port offers courses for all age groups and every year, a couple of races are organized. The sport possibilities include tennis, mini golf and boccia. Close by, you can also find a beautiful 9-hole-golf court. If you're looking for more entertainment, you can go to Caorle, which has a beautiful historic city center and is only separated from Porto Santa Margherita by the river Livenza.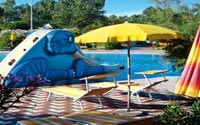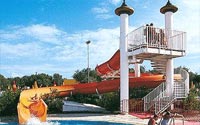 Camping Pra' delle Torri

Italy / Adriatic Sea / Porto Santa Margherita

Camping Pra' delle Torri is situated around 3 km after Porto Santa Margherita di Caorle, right at the beach. The spacious complex stretches across 53 ha and has an abou1 km long private beach (separated from the camping ground by an overgrown dune), a hotel, a comfortable camping ground and a bungalow village. Due to ist size and the untouched nature, this place is perfect for children.

Facilities of the Camping Pra' delle Torri: big supermarket, restaurant, pizzeria, ale house, bars, TV-room, ice-cream parlors Different shops like a newspaper stand, hair dresser, boutiques, sport shops and mobile traders. From June to August there is a weekly antique market. Medical care (for a fee), washing machines and dryers with coins, car wash site. A safety wristband (handed out at arrival) has to be worn during the whole stay.
Sport & entertainment at the Camping Pra' delle Torri : Impressive, big waterpark (about 5.200 sqm, please note the opening hours due to the siesta, bathing cap obligatory) with water slide, 2 swimming pools (50 x 20 m, 25 x 21 m, one pool is heated, until 15.5. covered depended on the weather, therefore open all season), sun terrace, water park and other pools open from around 20.5. to 15.9., sport centre, with pool (25 x 12 m), children's pool, miscellaneous animation program for children and adults. Evening events, soundproof disco, movie theatre, big children's playground, soccer, basketball and volleyball field inclusive.

For a fee: sun loungers and parasols at the pool and at the beach, tennis courts (2 with floodlight), table tennis, windsurfing school, diving and swimming courses, fitnesscenter, badminton, mini golf, mountainbike and bicycle rental, mini-go.kart, archery, paddleboat rental, kayak and amusement hall

Golfclub "Pra' delle Torri" (9-hole, all year), public, with club house, snack bar, golf courses, Putting and Pitching Green (discount).

Accomodation at the Camping Pra' delle Torri: comfortable, well equipped, L-formed premium mobile homes with 2 bedrooms and each a separate shower/toilet.

Premium mobile home CP2: 1 to 5 persons, 7,40 m x 6 m, L-formed, living/sleeping room with kitchenette and 1 sleeping opportunity, double room with shower/toilet, room with 2 bedrooms with shower/toilet, furnished terrace with sunroof.

Premium mobile home CP3: 1 to 5 persons, 8 x 5 m, L-formed, living room with kitchenette, double room with shower/toilet, room with 3 bedrooms with shower/toilet, air condition (additional fee), furnished wooden terrace with firm roof.

Every year, Camping Pra delle Torri is fully booked very early for all traveling periods. Therefore, and not only for the early bird rates, we advise you to book as early as possible.

A Video of the CP3 in HD quality can be found under www.mobilheim-cp3.de from € 39 per mobile home/night

Arrival and departure: daily. Minimum stay: 3 nights, 7 nights between 4.6. and 10.9.
Included: Site fee, persons, electricity, gas, water, heating, blankets, pillows, bed linen (weekly change), 1 car parking place To bring: Bathroom and kitchen linen.
Pets: not allowed
On request (to be paid on the spot): air condition € 4 per day/mobile home (only in type CP3), baby cot for a child of up to 3 years, not in addition to maximal occupancy, high chair, each € 2 per day
To be paid on the spot: Deposit € 100. The final cleaning needs to be carried out by the guest, otherwise it will be charged € 40. Early bird and saving dates are offered:
7=5 arrival
7=6 arrival
14=10 arrival
14=11 arrival
14=12 arrival

Please request our offer with your individual travel dates via booking request.


Prices are not guaranteed and
can be subject to change without notice
Please request our offer with your individual travel dates vie booking request